Sitecore announces headless CMS offering
Experience Edge offers hybrid headless capabilities.
Kim Davis
on December 9, 2020 at 12:08 pm | Reading time: 3 minutes
Sitecore, the CMS and ecommerce platform, has announced the launch of Sitecore Experience Edge, a new platform for headless content delivery at scale. The platform's content creation capabilities will be accessible to marketers as well as developers. The headless content delivery will be available in early 2021.
Two options will be available initially, Experience Edge for Sitecore Content Hub and Experience Edge for Sitecore Experience Manager (XM). The former allows headless content delivery to any channel through APIs, with the content managed by marketers, and tools for content lifecycle management. The latter offers XM customers to publish static website content as well as deliver headless content. Content management is again accessible to marketers.
Headless and hybrid. Headless CMS — so-called because it lacks a content delivery component (the head) — allows the front-end (basically, any channel) to request content from a content hub through APIs. It's viewed as advantageous to brands and organizations seeking to push content across many channels rather than just feed it to a website.
When headless capabilities are combined with user-friendly content management tools, the result is often called "hybrid headless." Jose Santa Ana, Product Marketing Director for Sitecore AI and Content Hub, confirmed that it would be accurate to describe Experience Edge as a hybrid solution.
---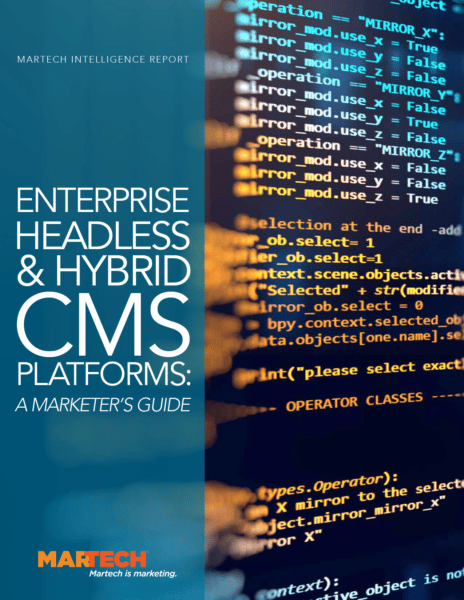 Looking to leave WordPress behind? Learn about headless and hybrid CMS systems in this just-released MarTech Intelligence Report.
---
"First, it does offer coding-free content management (with the full content planning, collaboration, and management capabilities) for marketers, but requires front-end coding for publishing of the content and building the experience," he told us. "Secondly, for Sitecore Experience Edge for Experience Manager (XM), it's hybrid because the underlying XM content management solution can be deployed on-premises, while the delivery layer is deployed as SaaS."
The two options. We asked Santa Ana why Sitecore was offering the two distinct Experience Edge services. "The two offerings address two different use cases, which can translate to two different groups of customers," he explained. "Sitecore Experience Edge for Sitecore Content Hub allows marketers and business users to manage the content while developers build the presentation/front-end separately.
"Sitecore Experience Edge for Sitecore Experience Manager (XM) allows marketers and business users to control both the content and the presentation/experience composition layers, while removing the burden of content deployment, infrastructure setup, and scaling."
Why we care. As digital marketing evolves rapidly from the model of creating websites and web pages and publishing content designed for them, headless CMS — and especially hybrid headless — will increasingly be seen as a route to delivering channel-agnostic content as channels continue to multiply.

Headless and hybrid content management systems: A snapshot
What they are. Headless and hybrid content management systems are software that serves as a repository for textual and other digital content that includes an application programming interface (API) that allows that stored content to be distributed to a variety of platforms. "Hybrid" systems have some of the characteristics of headless systems and some of those of "traditional" content management systems.
Why they're hot. Most enterprise content management systems are built to deliver content to a desktop web browser, with WordPress being the most popular. However, much has changed since the platform's start in 2003. People interact with content not just on desktops and laptops, but on their mobile phones, cars, TVs, and other connected devices.
Each device people use requires their unique interface and type of content to deliver the best experience. Brands may want to share content in different "wrappers," which could include webpages, mobile apps, email, smart speaker apps, or VR apps.
How it works. A headless CMS disconnects the underlying content from the manner of display, making it easier to leverage the same assets across many platforms and devices. Repurposing and reusing content in this manner improves marketers' ROI and reduces spend on creative efforts. These systems also speed up content delivery, helping brands better meet customer expectations.
Why we care. Enterprises need to deliver the same content in different languages with certain cultural tweaks in each market. This, coupled with the need to present their content on many channels and platforms, has shown many web developers the limitations of PHP formats. This is why so many adopt more modern CMS technologies to improve user experience.
Dig deeper: What are headless and hybrid content management systems?
---