Grammarly tops YouTube's TrueView for Action 2018 leaderboard
The ranking algorithm factored total reach, clicks and engagement for the direct response ads.
Amy Gesenhues
on December 7, 2018 at 2:29 pm | Reading time: 2 minutes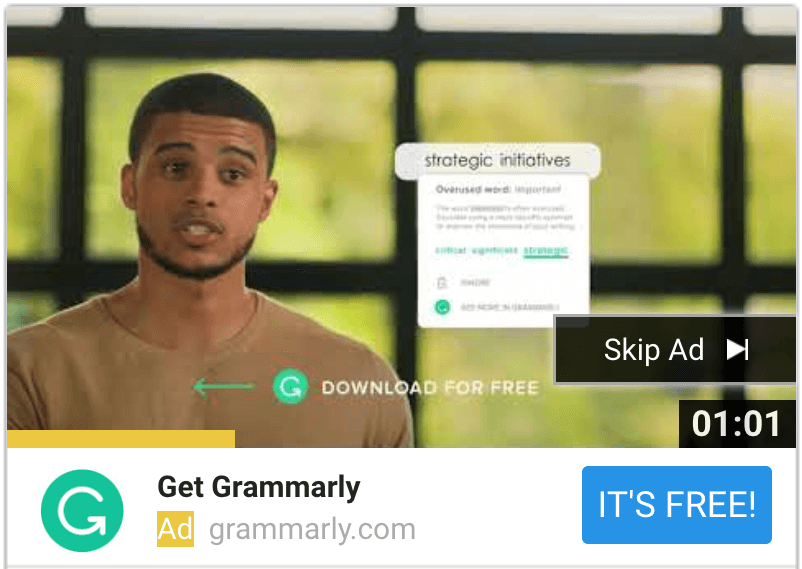 YouTube has released the top ten TrueView for Action ads in 2018, with Grammarly's "Enhance Your Writing" 60-second spot coming in at the top. The year-end ad leaderboard focused only on the direct-response ad format, a shift from YouTube's usual annual list ranking the top trending video ads overall.
Why you should care
YouTube's focus on its TrueView for Action ad format is a nod to its focus on attracting more performance advertisers. TrueView for Action ads officially launched in March. They feature a customized call to action that appears below the video on mobile, or alongside the video player while an ad plays on desktop. The ads can be coupled with custom intent audiences to reach people based on their recent search history.
Online grammar tool Grammarly ranked number one on YouTube's first-annual list of top TrueView for Action ads based on an algorithm that factored total reach, clicks, and engagements. Grammarly's "Enhance Your Writing" ad included a persistent "Download for Free" call to action built right into the video ad that pointed to the "Get Grammarly" call to action overlay. The overlay links to the Grammarly homepage where users can download the software.
With ads from Wix and Netflix making their way into the top ten list alongside lesser-known advertisers like Grammarly, this list shows major brands and niche brands alike are using the new TrueView for Action ad format.
More on YouTube's top TrueView for Action ads
Monday.com, League of Legends, Nectar Mattress and World of Warships rounded out the top five TrueView for Action ads of 2018. You can find the full list of the year's top TrueView for Action ads here.
The call to action elements within TrueView for Action ads can include creative elements such as logos or images. If an advertiser does not select an image for the ad, Google will pull it automatically from the ad's landing page.
The call to actions continue to display at the bottom of the host video even if the video ad is skipped by the viewer.
---
Opinions expressed in this article are those of the guest author and not necessarily MarTech. Staff authors are listed here.
---