Google Expands "Confirmed Click" Functionality To In-App Smartphone Display Ads
How many times have you accidentally clicked on a mobile display ad, when you meant to hit the adjacent content on that tiny phone screen? More importantly, how many of your pay-per-click ads have been clicked on accidentally? This is the problem Google is trying to solve with new "confirmed click" functionality for its in-app […]
Pamela Parker
on December 13, 2012 at 10:11 am | Reading time: 2 minutes
How many times have you accidentally clicked on a mobile display ad, when you meant to hit the adjacent content on that tiny phone screen? More importantly, how many of your pay-per-click ads have been clicked on accidentally? This is the problem Google is trying to solve with new "confirmed click" functionality for its in-app mobile display ads on smartphones.
When Google detects that a person clicks on the outer edge of an ad unit — potentially meaning to click on adjacent content — the user will be prompted to verify that he actually meant to click on the ad. The prompt will take the form of a white arrow and text saying "Visit Site," on a blue background. The new format has been rolled out today.
Advertisers won't need to modify creative — Google will make the changes on its end.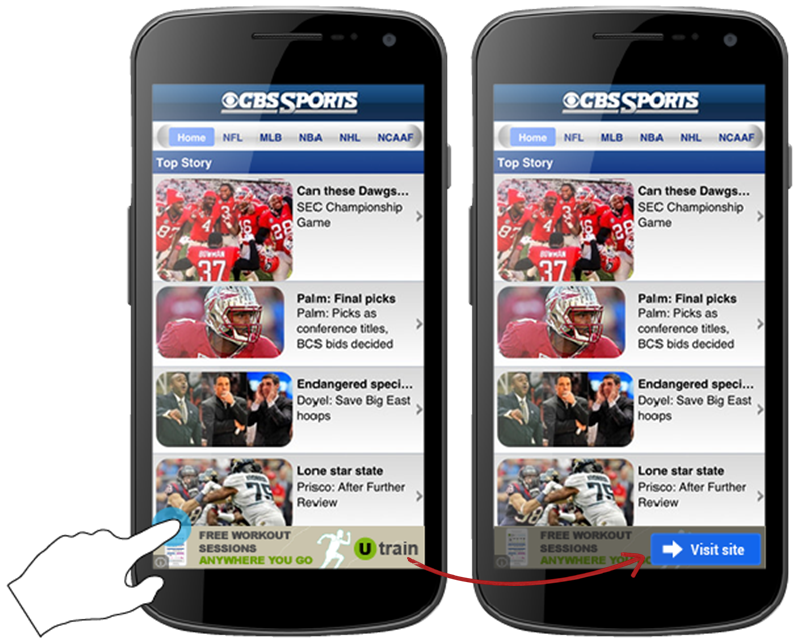 The company has some experience to draw upon when addressing this issue, given it's used confirmed clicks, and a similarly-styled image, on text ad banners on smartphones for several years. Here's an example of that implementation:
Google says initial tests show that confirmed clicks "notably" raise mobile conversion rates, though click-through rates are understandably decreased, as accidental clicks are eliminated.
---