12 marketing automation platforms your organization should consider
Marketing automation platforms are a critical part of the martech ecosystem for many businesses, offering numerous benefits by streamlining manual B2B marketing tasks, including lead management, email campaign development and landing page creation.
With martech budgets under greater scrutiny in the current environment, marketing leaders are expected to be able to demonstrate ROI for any new technology investment. Marketing automation platforms are a critical part of the martech ecosystem for many businesses, offering numerous benefits by streamlining manual B2B marketing tasks, including lead management, email campaign development and landing page creation.
Below you will find a list of 12 notable marketing automation vendors that we profiled in the latest MarTech Intelligence Report on B2B marketing automation platforms.
These platforms offer a wide range of advanced features, including AI-based predictive lead scoring and product recommendations, ABM and social media campaign integration. They also integrate seamlessly with many third-party CRM and other point solutions to offer extended capabilities. The key to ensuring ROI is to make sure the platform is easy to use and scale and is suited to your organization's goals. Platform vendors offer extensive training programs, online communities and strategic consulting services to encourage more comprehensive platform use and create a higher return on marketing automation investments.
Here is our list, which is organized alphabetically and not in any order of importance. For information on pricing and a deeper feature breakdown, download the MarTech Intelligence Report.
Acoustic
Founded in 2019 after IBM Watson Marketing separated from IBM as a standalone company, Acoustic powers thousands of marketing teams in more than 70 countries, sending more than 4 billion messages every week. It is currently backed by Centerbridge Partners and employs 900 people.
Target customers
B2B and B2C upper mid-market and enterprise marketing teams, supporting retailers, banks, insurance, e-commerce, education, travel, hospitality, media, manufacturing and entertainment. Some key customers are Wikipedia, TJX, Ticketmaster, MetLife, PayPal and USO.
Product overview
Dynamic flowcharting enables marketers to quickly build multichannel digital campaigns (email, SMS, mobile push, social) with decision junctures and percentage-based splits that can fork to nine paths (not including the remainder path). Customer profile updates can be made directly from a campaign and current customer status is presented across an active program.
Lead capture, nurturing and scoring models deliver high-quality leads while decreasing customer acquisition costs.
Email Insights previews 30 different email clients, including Gmail, Outlook and iPhone and Android platforms, and delivers reports such as geolocation (including city, state and country), average engagement time and preferred email client or device.
Inbox Monitoring helps clients ensure maximum deliverability to Inboxes across providers and, thus, engagement.
Mobile app messaging campaigns capture mobile insights in real-time and drive personalized mobile experiences (push notifications and in-app messages) to each contact.
SMS campaigns reach customers quickly with personalized, targeted messages.
Social campaigns enable marketers to reach existing segments in social channels or to expand to reach new contacts that resemble existing profiles.
Personalization helps marketers understand, capture and respond to customer preferences and behaviors.
Budgeting and planning leverage marketing, CRM and finance systems to measure, track and optimize marketing performance.
---
Explore platform capabilities from vendors like Adobe, HubSpot, Salesforce and more in the full MarTech Intelligence Report on marketing automation platforms.
---
Acquia Campaign Studio
Boston-based Acquia, perhaps known best for its Drupal content management system, was founded in 2007 and was acquired by Vista Equity Partners in September 2019. I has 1,000+ employees across several major global cities.
Target customers
Acquia targets mid-market and enterprise businesses, and several of its most notable marketing automation customers are Shake Shack, Lids, ParkNow and Applause.
Product overview
Acquia Campaign Studio (formerly Mautic, which it bought in 2019) is a customer journey orchestration solution that allows brands to align their digital strategies, create, orchestrate and deliver exceptional customer experiences across all channels.
Offers a drag-and-drop interface that allows marketers to orchestrate the customer journey by defining different journeys that respond to what customers are doing in real-time. This includes cross-channel, multi-touch and multi-wave campaigns.
Marketers can build individually personalized content quickly through a drag-and-drop Email Builder, from scratch or from a template, execute and monitor all aspects of their campaign directly; helping boost engagement, loyalty and customer lifetime value.
With Acquia Campaign Studio, organizations can onboard any channel and orchestrate seamless, one-to-one customer experiences everywhere. This includes email, SMS, push notifications, landing pages, web push and personalization, social media, ad tech, direct mail, and emerging channels like voice, IoT and digital signage.
Act-On Software
Portland-based Act-On considers itself the only independent and marketing-focused automation vendor in the market. Founded in 2008, Act-on currently emoploys 200 people across its Portland and Reading, U.K. offices. It has raised a total of $74M in venture funding.
Target customers
Emerging growth and mid-market B2B and B2C companies seeking a highly configurable and powerful marketing automation platform, growth marketers looking to extend marketing performance across customer experiences, and buyers in a variety of industries that include business and financial services, manufacturing, higher education, insurance and technology. Key customers include RLH, Sharp, RSA Canada, Avery Dennison, Simpleview and Oregon State University.
Product overview
Offers a highly configurable platform that sets users up for success and adapts as their business needs evolve.
Delivers intuitive inbound and outbound multichannel marketing, contact capture, scoring, segmentation, targeting and lead nurturing.
Open ecosystem for simple integration of the technology stack, with native CRM integrations for Salesforce, Microsoft Dynamics, Sugar CRM, and NetSuite.
Designed to empower growth marketers to deliver consistent customer experiences, drive product adoption and advocacy.
Act-On also says its customers enjoy the best email deliverability rates in the industry. It also offers deep integrations with event planning solutions and SMS messaging directly from within the product.
Dotdigital
Founded in 1999, London-based dotdigital began as a digital agency and has evolved to serve marketing and communications professionals with its Engagement Cloud. It is a public company traded on the London StockExchange and employs 350 people across several global headquarters.
Target customers
Dotdigital works with customers ranging from SMBs to mid-market companies to enterprises. Some key clients include British Airways, USA Rugby, Copa Air, Surf Outfitter, Bearpaw and Monin.
Product overview
Users can import data, build segments and triggers, and create relevant marketing campaigns that engage customers on their favorite channels. In addition to email marketing, dotdigital supports the personalization of marketing messages across SMS, push notifications, live chat and social ads.
Users of the platform can use contact/lead scoring capabilities to score leads based on a range of data points and actions.
Integrations with the likes of Microsoft Dynamics 365 and Salesforce ensure that newly acquired contacts are synced with CRM platforms.
ABM activities can be automated with dotdigital's program builder. With it, marketers can orchestrate end-to-end nurture campaigns and, for example, add contacts who meet a particular lead score as they engage with marketing communications to an address book of sales-ready leads.
HubSpot
Founded in 2006, Cambridge-based HubSpot is perhaps best known for its customer relationship management (CRM), but its software services have grown well beyond CRM. The company has 4,000 employees, is publicly traded on the New York Stock Exchange and has offices across the world.
Target customers
HubSpot serves B2B and B2C customers, mostly mid-market and scaling SMBs. However, the company is more recently serving enterprise businesses. Some key clients include SurveyMonkey, Classpass, DoorDash, Airstream, Care.com and Randstad.
Product overview
The HubSpot Growth Platform is a full software stack for marketing, sales and customer success, with a free CRM at its core. The platform components are:
HubSpot Marketing Hub: Includes tools for lead capture and management, scoring, nurturing, analytics, A/B testing, blogging, content management, social monitoring and publishing, email marketing and paid advertising. Offers rules-based or predictive lead scoring for any data point including email and website actions, social media metrics and form captures. Scoring systems can be tested as well as segmented in a customer's database. Additional functionality includes the ability to trigger campaigns, profile and lead scoring changes, and notifications when particular prospect behaviors occur.
HubSpot Sales Hub: Sales productivity software for sales teams at growing businesses. The software includes email tracking from the user's inbox, notifications when leads view site pages, and in-line information on competitor sites and emails users receive. Can be used to schedule emails and follow-ups from within the user's inbox.
HubSpot Service Hub: A service tool for growing businesses that want to prioritize the needs of the customer. Tools include a unified inbox called Conversations, knowledge base tools, and customer feedback measures.
HubSpot CRM: A CRM and growth tool for businesses that are just starting to formalize their sales process. Helps align sales teams and supports business growth by organizing details about an organization's contacts, companies, sales process and customers in one place.
HubSpot CMS: Uses a personalization engine to customize the website experience for each visitor. Includes free one-click SSL, as well as a web application firewall for added security.
Keap
Chandler, Arizona-based Keap was founded in 2001 and has 400 employees. Its investors include Bain Capital Ventures, Goldman Sachs, Signal Peak Ventures, and Mohr Davidow Ventures
Target customers
Keap primarily serves small businesses with two to 25 employees. Key clients include The Bestseller Academy, Skillastics, Artist Management Services, Magic Evan, Brooklyn Music Factory and Advocates 4 Angels.
Product overview
Keep centralizes customer information in a suite of tools including CRM, sales automation, marketing automation, e-commerce, payments, analytics and mobile solutions.
Marketing automation tools that offer contact management, contact segmentation (tags), saved searches, tasks, Web forms, landing pages, company records, lead scoring, customizable dashboard, pipeline management, advanced automation, or an easy automation builder.
Keap also supports Automated list management for email engagement monitoring and data migration services.
Mailchimp
Founded in 2001, privately owned Mailchimp has 1,200 employees. Headquarted in Atlanta, Mailchimp has additional offices in Brooklyn, Oakland, California, Santa Monica, California and Vancouver, Canada.
Target customers
The company says it targets Fortune 100 companies, though most customers are small businesses, particularly in the commerce and technology industries. Key clients include Dollar Shave Club, GitHub, Magnolia Market, Chronicle Books, TEDTalks and UrbanSitter.
Product overview
Mailchimp provides marketing tools for email, Facebook ads, Instagram ads, landing pages, Google remarketing ads, sign-up forms, postcards, customer relationship management, websites and organic social posting.
When it comes to lead generation and analytics, the platform includes behavioral targeting, segmentation, predicted demographics, tags and contact profiles, a lookalike audience finder, lead management and an audience dashboard.
Integrations give users the option to connect the collaboration and task management tools of their choice to the Mailchimp account.
Marketo Engage
Marketo was acquired by San Jose-based Adobe in October 2018. Its parent company Adobe was founded in 1982. It has 22,634 employees and more than 13,000 customers around the world.
Target customers
Marketo Engage is designed for SMB to enterprise-level B2B marketers and some B2C considered-purchase marketers in a variety of industries, including technology, business services, healthcare, financial services, education, manufacturing, and telco. Key clients include CenturyLink, Charles Schwab, GE Panasonic, RingCentral and Roche.
Product overview
Cloud-based Marketo Engage features 10 major capabilities for:
Marketing automation to create, automate, and measure campaigns across channels.
Account insights and profiling to identify the right target accounts using data and AI.
Email to engage customers with relevant conversations in minutes.
Mobile to communicate with customers using mobile devices.
Social integration to identify potential and current customers.
Targeted, personalized display ads.
Dynamic interactions with customers on a web site.
Marketing analytics to prove and improve business impact.
Predictive content.
Marketo Sales Connect to coordinate sales and marketing.
Oracle Eloqua
Austin-based Oracle was founded in 1977 and it acquired Eloqua in December 2012 The company, which trades publicly on the New York Stock Exchange, has 135,000 employees and offers suites of integrated applications plus infrastructure through its Oracle Cloud offering.
Target customers
Oracle Eloqua is marketed to:
B2B or B2B2C organizations that are enterprise, mid-market or small businesses that require nurturing / lead scoring for large considered purchases or long sales cycles.
Sales and/or marketing departments who are looking to align internally and personalize the digital customer experience.
Industries include, but are not limited to: High tech, manufacturing, financial services and insurance, travel and transportation, consumer packaged goods, and media and communication.
Key clients include DocuSign, Panasonic, Mack Trucks, Movember, Kansas City Chiefs and the Tampa Bay Lightning.
Product overview
Oracle Eloqua is a marketing automation solution for cross-channel campaign orchestration that nurtures leads across each stage of the buying process using bestin-class applications to drive sales with:
Campaign orchestration to create dynamic campaigns that intrigue buyers and adapt the multi-touch experience based on a buyer's real-time activities.
Targeting and segmentation capabilities that allow users to create rich customer profiles and target the right individuals with the most relevant information throughout the sales cycle.
Lead management capabilities that are customizable and leverage key data points while driving high-quality leads.
Sales and marketing alignment with unified buyer intelligence to identify, prioritize, and track high-valued opportunities and top-tier accounts across the sales cycle.
Data management and activation that allow marketers to take the next best action with a contact based on real-time digital behaviors.
Asset management for design and re-purposing compelling emails, landing pages and content blocks that engage customers and efficiently manage assets across teams and campaigns.
Marketing measurement and insights through flexible and powerful out-of-thebox reporting and detailed dashboards.
Advanced intelligence capabilities that apply data science to observed behaviors and adapt experiences to the learned preferences of each individual.
Salesforce Pardot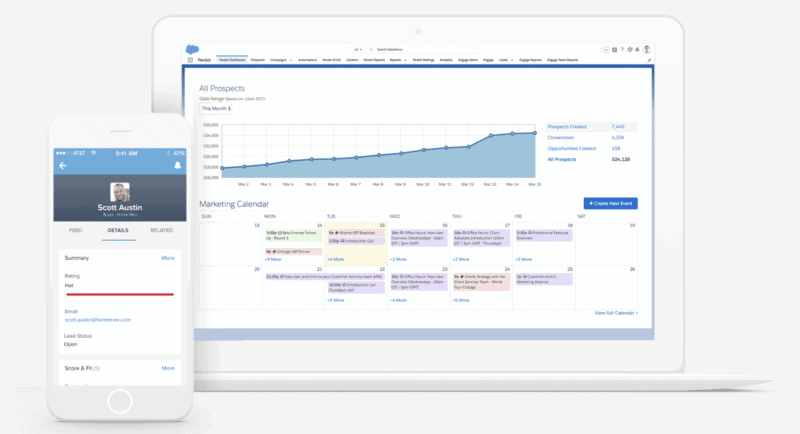 San Francisco-based Salesforce was founded in 2007 but it purchased Pardot in 2013. It has offices in more than 30 countries.
Target customers
Pardot is marketed to SMBs to enterprise-level organizations across all verticals and geographies. Key clients include Zoom, VMware, Amazon Business, Southwest Cargo, T-Mobile and Paypal.
Product overview
Salesforce Pardot aligns marketing and sales teams to generate more pipeline, empower sales to close more deals and grow customer relationships at scale. Key components include Marketing Analytics to help marketers understand and improve marketing ROI, Artificial Intelligence to unlock the next level of productivity and effectiveness, and Account-based Marketing (ABM) to target and grow key accounts.
Salesforce Pardot gives marketers the ability to quickly identify the best leads and determine when leads are sales-ready by allowing them to do the following:
Identify who is interested by scoring prospect interactions
Find the right customers with objective grading
Determine prospects with key buying personas using artificial intelligence
Prioritize sales outreach at a glance
SharpSpring
Gainesville, Florida-based SharpSpring was founded in 2012 and has about 250 employees. In 2019 it acquired Perfect Audience, a digital advertising platform. SharpSpring trades publicly on the Nasdaq and its products are used by over 2,000 agencies and 10,000 businesses worldwide.
Target customers
SharpSpring caters to SMBs and marketing agencies, including digital marketing, advertising, web design and public relations firms. Top verticals include creative, technology, professional/financial services, legal, manufacturing, healthcare, education and travel/hospitality. Key clients include RP-1, Core Integrated Marketing, mXtr Automation, LaFleur Marketing, Funnelbud, and Phobos & Actor.
Product overview
SharpSpring provides a comprehensive suite of tools that allow users to track the complete buyer's journey with end-to-end ROI, while delivering targeted communication at critical conversion points along the way.
SharpSpring's CRM, a contact manager for opportunities and pipelines, includes the following features:
Life of the lead: A historical record of each contact's engagement with your brand, from first site visit to every form-fill and beyond.
Multiple device tracking: Monitor lead behavior across every known mobile, tablet and desktop device.
Visual workflow builder: Flexible triggers and branching logic to engage leads at critical points in the buying journey.
Buyer personas: Segment leads based on interests and behaviors with custom meta-profiles of each ideal customer type.
Dynamic lists/advanced segmentation: Leverage rules-based automation to group and segment contacts for specialized outreach and lead management.
Email designer/Smart mails: Create attractive, professional emails using dragand-drop functionality.
Activity feed: Access a bird's-eye view of the most active leads — when they're opening emails, viewing media, visiting tracked pages, and more.
Sales dialer: Quick, high-volume outreach designed to increase conversions with fully integrated dialing, call recording and automated transcriptions.
Meetings: Ability for prospects to self-schedule appointments.
Real-time notifications: Immediate notifications when leads engage for lightningfast sales outreach.
Sugar Market
Cupertino, California-based SugarCRM was founded in 2004. SugarCRM acquired Salesfusion in May 2019 and rebranded that marketing automation platform as Sugar Market. Today it is a key pillar of the Sugar CX suite of products and services. SugarCRM has 450 Employees.
Target customers
Sugar Market is intended for small to medium-sized enterprises, typically with headcount between 100-2,500 full-time employees and a marketing organization of 5-15 people (maybe a division or region of a larger organization). It serves both B2B and B2C customers across a variety of industries with strong experience in software, manufacturing, professional and financial services, and recruitment. Key clients include Seco Tools, Moorepay, SiteLock, Ogilvy, The Home Store and The Adecco Group.
Product overview
Sugar Market allows clients to attract more website visitors and gain visibility into how their audience interacts with digital assets. Conversion-focused landing pages can be created, as well as emails and forms with intuitive, drag-and-drop builders. Clients can qualify leads with multi-step nurture campaigns and sophisticated lead scoring models. Sugar Market allows users to easily uncover which tactics are working — and where improvements are needed — to refine campaigns and constantly deliver results. The platform is then able to hand-off leads to the CRM using one of nine CRM integration options.
---
Snapshot: Marketing automation
For today's marketers, automation platforms are often the center of the marketing stack. They aren't shiny new technologies, but rather dependable stalwarts that marketers can rely upon to help them stand out in a crowded inbox and on the web amidst a deluge of content.
HubSpot noted late last year that marketing email volume had increased by as much as 52% compared to pre-COVID levels. And, thankfully, response rates have also risen to between 10% and 20% over their benchmark.
To help marketers win the attention battle, marketing automation vendors have expanded from dependence on static email campaigns to offering dynamic content deployment for email, landing pages, mobile and social. They've also incorporated features that rely on machine learning and artificial intelligence for functions such as lead scoring, in addition to investing in the user interface and scalability.
The growing popularity of account-based marketing has also been a force influencing vendors' roadmaps, as marketers seek to serve the buying group in a holistic manner — speaking to all of its members and their different priorities. And, ideally, these tools let marketers send buyer information through their tight integrations with CRMs, giving the sales team a leg up when it comes to closing the deal. Learn more here.
---