Pew: 94% Of Teenagers Use Facebook, Have 425 Facebook Friends, But Twitter & Instagram Adoption Way Up
Teenagers use Facebook by far more than any other social media site and have over 400 friends on it. But Twitter and Instagram have massively increased their usage in the past year, according to a new survey from the Pew Internet & American Life Project, together with Harvard's Berkman Center. The new report covers US teens […]
Greg Sterling
on May 21, 2013 at 6:52 pm | Reading time: 4 minutes
Teenagers use Facebook by far more than any other social media site and have over 400 friends on it. But Twitter and Instagram have massively increased their usage in the past year, according to a new survey from the Pew Internet & American Life Project, together with Harvard's Berkman Center.
The new report covers US teens and social media. There are an enormous number of findings in the document, which was compiled using both surveys and focus groups. You can read or download the full report online.
Facebook Tops, Twitter & Instagram Growing
According to the report, 95 percent of teens (12 – 17) use the internet, and 81 percent of them use social media sites. Facebook is by far the most heavily adopted social site, with 94 percent of social media teens reporting they have a profile there.
Twitter and Instagram are far behind Facebook, but both have made impressive gains. Twitter was used by only 12% of teens in 2011 but more than doubled that to 26% in 2012. Instagram doesn't appear to have been measured in 2011, so surveyed growth can't be determined. But it comes in with an impressive third place at 11%.
Only 5 percent of teens say they use Tumblr; only 3% use Google+. Only 1% reported using what's generally seen as a hot new social network, Pinterest.
The size of teens' Facebook networks is pretty evenly distributed. Just over half tend to have fewer than 300 friends, while 44 percent of survey respondents say they have more than 300 friends. The average number of Facebook friends is 425.4 according to the report.
The more Facebook friends in their networks, the more active teens tend to be. That makes sense, and it might be that the more "socially active" teens tend to develop larger networks. In addition, those with larger Facebook networks also tend to participate in a broader array of social sites, not just Facebook.
In general, teens appear to have a generally favorable view of social media and report more positive experiences than negative experiences: "52 percent of online teens say they have had an experience online that made them feel good about themselves."
In the document, Pew compares teen social media attitudes and usage in 2006 to 2012. Overall, teens tend to be somewhat more open and share more information than they did in 2006. Yet, very few teens "embrace a fully public approach to social media." They actively manage their profiles and what is shared with whom. Pew found that teen "patterns of reputation management on social media vary greatly according to their gender and network size."
The report also says that teen sharing and visits to social media sites have hit a plateau of sorts with heavy users reporting basically the same frequency levels as in 2011:
Since 2011, the number of teen social media users who visit the sites "several times a day" has not changed in any significant way; 40% said they have visited the sites several times per day in 2011 and 42% reported that in the current survey. In 2011, 24% of teen social media users visited the sites "about once a day," while 25% reported doing so in the current survey.

Girls and older teens continue to be the heaviest users of social media sites. Among teen girls who are social media users, 48% say they visit social networking sites several times per day, compared with 36% of teen boys.
Part II of the report is devoted to teen attitudes toward social networking privacy and data access by advertisers and others. A large majority of parents (81 percent) say they are "very" or "somewhat" concerned about third party access to their kids' data. However, only 40 percent of teens (still a substantial number) are "very" or "somewhat" concerned — with most of them, (31 percent) falling into the "somewhat" category.
While most teens are not concerned about third party access to their data, teens on Facebook are generally diligent about their privacy settings, with 60 percent saying their profiles and updates are "private." In general, girls are more likely than boys to have private profiles.
Teens selectively "curate" their reputations on Facebook and other social sites. For example, "74 percent of teen social media users have deleted people from their network or friends list." In addition:
59 percent have deleted or edited something that they posted in the past
53 percent have deleted comments from others on their profile or account
45 percent have removed their name from photos that have been tagged to identify them
31 percent have deleted or deactivated an entire profile or account
19 percent have posted updates, comments, photos, or videos that they later regretted sharing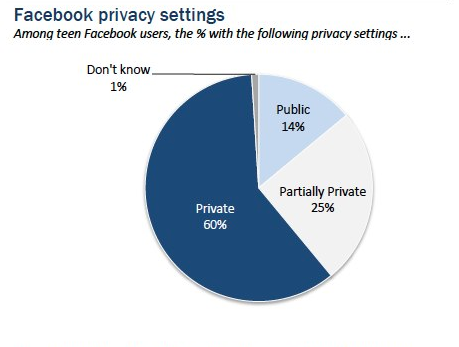 As mentioned, there's a great deal more information and considerable nuance in the document, which I've not been able to fully represent in this post. So, take a look at the report if you want to drill down further into any of these areas.
---
Opinions expressed in this article are those of the guest author and not necessarily MarTech. Staff authors are listed here.
---