How Long Should Your Content Be? What Works On Blogs, Facebook & More
Ideal content length is something with which B2B and B2C marketers across industries constantly struggle. Unfortunately, the most common answer to content-length questions is the often-dreaded, extremely-ambiguous response that is the reply to many of marketing's toughest questions: "It depends." And though ideal content length really does hinge on a variety of factors including industry […]
Arnie Kuenn
on June 2, 2014 at 9:01 am | Reading time: 6 minutes
Ideal content length is something with which B2B and B2C marketers across industries constantly struggle. Unfortunately, the most common answer to content-length questions is the often-dreaded, extremely-ambiguous response that is the reply to many of marketing's toughest questions: "It depends."
And though ideal content length really does hinge on a variety of factors including industry norms and audience engagement, "it depends" isn't very helpful for marketers looking for actionable advice.
However, though there aren't any hard and fast rules when it comes to content length, there are general guidelines that can be applied when creating content, despite the industry or audience it is intended for.
So, how long should your content be? Here are some general content-length guidelines, organized by content type:
Blog Posts & Articles
Perhaps the most common content-length questions revolve around customarily considered long-form content pieces: blog posts and articles. There are many different schools of thought on ideal blog post/article length that range from one extreme to the other.
For example, Seth Godin has written entire blog posts that are shorter than the introduction to this post. On the other hand, many other authors publish much longer posts that are often upwards of a few thousand words.
Based on research by blog publishing platform Medium, the ideal length of a blog post takes visitors 7 minutes to read. That works out to be between 1,400 and 1,750 words, as the average person reads 200-250 words per minute. Medium found that after 7 minutes, readership started to drop off.
Of course, there are other factors like photos, graphs and charts that could influence the amount of time spent on a post, but the 7-minute mark (or about 1,575 words) is a great baseline.
Similarly, from a link attraction perspective, Moz found that longer posts garner more links. As links are still a major factor in SEO, writing blog posts that attract more links is in your best interest.
Also, when crafting blog posts, articles and other long-form content pieces, consider the length of your paragraphs. It is often recommended to make your content easily "scannable" by using headings, subheadings and bullet points. Shouldn't your paragraphs be scannable, too?
Additional whitespace increases the scannability of a long piece of content. To achieve maximum scannability, embrace the line break and keep paragraph length to three to four lines each.
Social Media
Most social media sites provide a maximum number of words or characters, but there is no minimum. Should you use all available real estate on social media networks?
Twitter
Though it may be tempting to use up all 140 characters allotted when tweeting, data suggests limiting tweets to 100 characters is best for engagement. Track Social found that tweets ranging from 72 – 100 characters acquire the most retweets. Additionally, Buddy Media found that tweets 100 characters or less had a 17 percent higher engagement rate.
Also, though Twitter.com does not allow users to manually retweet content, third party applications do. Some users like to manually retweet to allow for the addition of their own comment or question. Shorter tweets permit that, while longer tweets will result in users editing your message down to be able to fit their commentary.
Facebook
We know that on Facebook, images receive 120 percent more engagement than text posts. But when posting text, what is the ideal length for engagement?
A study of 120 million Facebook impressions by BlitzLocal found that long posts perform poorly from an engagement standpoint, and the ideal length of a Facebook post is between 100 and 119 characters.
Streaming Media (Videos & Podcasts)
As the average adult attention span is similar to that of a goldfish (9 seconds), length is crucial to consider when creating streaming media, like videos and podcasts.
According to Wistia, the completion rate for videos 30 seconds or less is a whopping 85 percent, with completion slowly declining as video length increases. Additionally, Clinton Stark reported that Google researchers said the ideal video length for a YouTube video is between 3 and 3.5 minutes.
Aim for videos to be less than 3.5 minutes, but try to get your point across as quickly as possible to avoid viewer drop off. Similarly, aim to keep podcasts short, as the average listener stays connected for about 22 minutes.
SEO
Now that you know how long many types of content should be, don't forget to optimize the length of content that affects SEO, like your title tags and meta descriptions.
Title Tag
The title tag is what is used in the SERPs; so not only is it important for rankings, it is important to catch the eye of searchers to influence click through. Of course, you'll want to optimize which keywords you include in your title tag, but also be cognizant of length.
A recent Google redesign made title tag length even more important. If a title tag is too long, Google will abbreviate it. Research of title tags by Dr. Pete of Moz shows that the peak cut off is about 57 – 58 characters, though there are certainly titles getting cut off before the 57 character mark.
However, Dr. Pete also notes that the size of the actual letters used make a difference in the character cut off, with all-capitalized title tags getting cut off earlier than a title with many lowercase letters. That being said, Dr. Pete found that at 55 characters, 95 percent of titles would not be cut off, making the ideal length 55 characters or less.
Meta Description
Similar to a title tag, the meta description for your content is also featured on the SERPs and will be abbreviated if it gets too long. Simply speaking, a meta description should be a short sentence that summarizes the piece of content. Moz recommends staying between 150 and 160 characters to avoid getting cut off mid-description.
In Summary
Though the optimal length of content truly can depend on outside factors, the above guidelines are just that — guidelines. These standards are not the end all be all of content length, but merely a benchmark to hold your content to. Here is a great chart by Orbit Media outlining general content-length guidelines: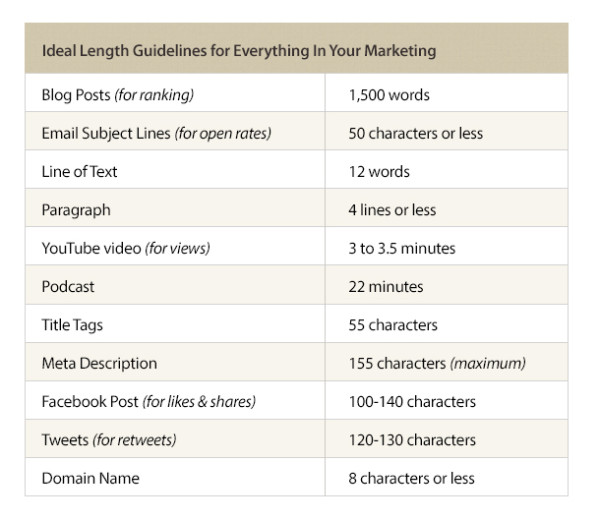 Overall, the most important thing to remember when debating content length is that your content should be as long as necessary to achieve the goal of the content piece. There is no use in adding extra words to a blog post just to make it longer, while you shouldn't cut important information from a video to keep it under 3.5 minutes.
The best thing you can do for your audience is to produce high quality, compelling content, which is what content marketing is all about.
---
Opinions expressed in this article are those of the guest author and not necessarily MarTech. Staff authors are listed here.
---