FAQ: All About Google's New "Shared Endorsement" Ads
On November 11, Google is expanding the use of "Shared Endorsements" in ads, where people's images and the things they like, comment on, rate or have reviewed through the Google+ social network can be used. Here's the rundown on how it works and how it differs from what Google already does. Doesn't Google already use […]
Danny Sullivan
on October 11, 2013 at 2:47 pm | Reading time: 4 minutes
On November 11, Google is expanding the use of "Shared Endorsements" in ads, where people's images and the things they like, comment on, rate or have reviewed through the Google+ social network can be used. Here's the rundown on how it works and how it differs from what Google already does.
Doesn't Google already use social info in its ads?
Yes. That's one of the most confusing things about today's announcement. For over two years, Google has allowed advertisers to show if people like their content within ads.
Below is a March 2011 example of how Google explained that advertisers could integrate the images of people who had liked their pages on Google+ into their AdWords ads:
Later that year, in September 2011, Google allowed for the same thing to happen in display ads that were shown in its network across the web:
So what's new?
After talking with Google today, the company explained to Marketing Land that its terms are being changed to allow for more than +1 likes to be shown in ads.
Now, if you make a review about something, or leave a comment, or follow a particular brand (rather than just +1 "liking" it), that and other social actions may appear in the ads on Google or as shown through its display network, along with your image.
How will it look?
Google has made one mock-up example to illustrate how one of the new types of shared endorsement ads might appear: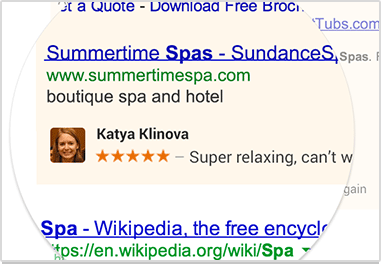 Compare that ad to the two previously shown. In the previous ads (the type of which currently run on Google), only an image of someone and/or their name appears. When shared endorsements expands, things like their reviews may also show, as can be seen in this example.
When does this start?
Google's terms have been updated to allow this type of use on November 11, 2013. So, you might start seeing these type of ads then, though realistically, it probably won't happen for a few days to a few weeks later.
How do I create these type of ads?
Stay tuned, because Google hasn't said. Its first step is ensuring it has the terms in place to allow for this type of usage. That's what today was all about. It'll likely be sharing information with advertisers soon, and we'll bring you more, as we know.
But to prepare now, be sure to review Google's page that explains how Google+ pages, badges, social extensions and the Google +1 button all interact with ads. The expanded shared endorsement ads will build on these foundations.
I don't want Google to put me in ads!
Use the tickbox at the bottom of this page to opt-out of appearing in ads now and in the future.
Is Google using me, my actions and my image outside of ads?
Yes. That's also important to understand. "Shared Endorsements" aren't just for ads — they happen in various ways all over Google.
For example, if you review a business, that review will show up with your name and your comments, as part of the review page for a business. Here's an example:
Purchase something from a merchant that makes use of Google reviews, and you might find your information showing up in Google's search results, like this:
These type of displays, and many others, already happen now. They'll continue on.
I don't want my social actions shown or used at all, even outside of ads!
There's no global option to disable non-ad use of your social actions, short of not having a Google+ account itself.
In some cases, you can be social on a limited, case-by-case basis. For example, you might share a Google+ page that you like only with a small circle of friends. If you do that, then only those friends should ever see that action.
In other cases, such as leaving reviews, you pretty much have to be public in doing that. If you dislike that, then don't leave reviews.
Obviously, look closely at any type of social activity you do. If it's tagged as public, then what you do is fodder for shared endorsements within ads, unless you opt-out of ad use and also do limited sharing for non-ad use, if allowed.
Tell me more!
We will, as we know more. In the meantime, you might also want to review Google's post about the change in terms, its help page on shared endorsements and the Google+ account settings page that controls shared endorsements.
---
Opinions expressed in this article are those of the guest author and not necessarily MarTech. Staff authors are listed here.
---