95% of online shoppers say a positive return experience drives loyalty [Report]
Narvar found almost all consumers surveyed would buy again from a retailer if they were satisfied with the return process.
Amy Gesenhues
on June 6, 2017 at 12:28 pm | Reading time: 3 minutes
The key to getting repeat ecommerce customers might be a friendly policy and process for accepting returned items.
According to a recent survey conducted by the ecommerce management platform Narvar, 95 percent of online shoppers polled said they would shop again with a retailer that provided a satisfactory return experience. And 82 percent of the survey participants who had already returned an item to a retailer confirmed they were repeat shoppers of the store.
In an attempt to determine how an online retailer's return process impacts purchasing behavior, Narvar surveyed 700 US consumers who had returned at least one online purchase during the past year.
"Most shoppers are frequently returning online purchases, while remaining loyal to brands if they have a positive experience," says Narvar CEO, Amit Sharma, in an announcement covering the survey findings, "Retailers who want to remain competitive will find ways to reduce friction in the return process."
Forty-nine percent of the online shoppers polled said they check a retailer's return policy before purchasing. When it came to the most restrictive return policies, shoppers listed restocking fees and return shipping fees at the top of the list.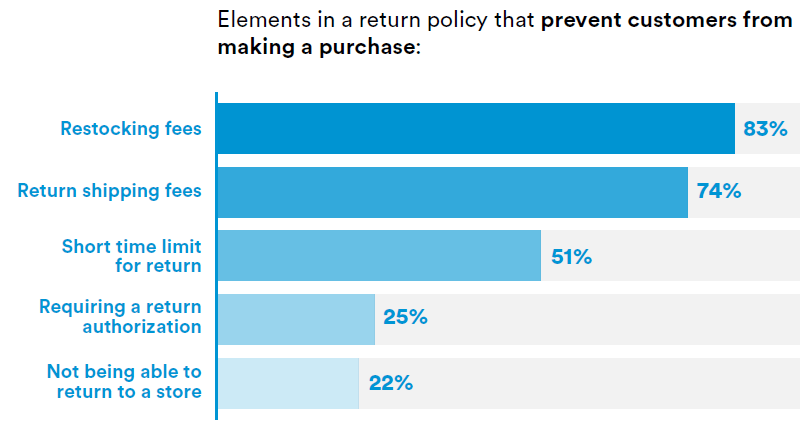 While 51 percent said too short a return period may prevent them from making a purchase, 53 percent considered a 30-day return period a fair amount of time. (Although, when asked about their last return, nearly 75 percent had returned the item within seven days — with 48 percent making the return within a few days, and 26 percent within a week.)
Overall, 43 percent of the survey participants said they did not replace an item they had returned, while 40 percent said they did replace the item and purchased the replacement with the same retailer.
Seventeen percent bought a replacement for a returned item from another retailer.
Narvar also found that 40 percent of the shoppers they surveyed "bracket" their online purchases, meaning they buy multiple versions of an item to try out what they like with the intention of returning the items that didn't work out.
The most likely items to be bracketed were apparel purchases (48 percent), followed by footwear (46 percent) and home products (42 percent).
Narvar asked participants to identify reasons why they would be disappointed with a return process — 51 percent said, "it was too much of a hassle to return the package," and 35 percent cited the process taking longer than expected.
The survey found consumers who had a bad return experience were three times more likely to abandon a retailer. Thirty-eight percent of survey participants said they prefer to return online purchases in-store — listing immediate credit and the ability to shop for new items as key reasons for an in-store return policy.
Narvar spent part of the survey focused on Amazon's return process and found that 75 percent of the consumers surveyed were satisfied with their last return experience on the site — and 91 percent confirmed they would buy from Amazon again.
While Amazon's return process takes more steps than most online retailers, Narvar found that Amazon's transparency keeps customers happy.
"Consumers are satisfied largely due to strong communication about package and refund status," says Narvar about Amazon.
You can download the full report from Narvar's website at: Making Returns a Competitive Advantage.
---
Opinions expressed in this article are those of the guest author and not necessarily MarTech. Staff authors are listed here.
---