Google Inviting All Developers To Buy Google Glass
Engadget reports Google has begun inviting developers who have signed up to play with the GDK, Glass Developer Kit, to buy Glass. Google opened the Mirror API, the ways most developers can build Glassware for Google Glass, to all developers over the weekend. Those developers who signed up to develop on the Mirror API received […]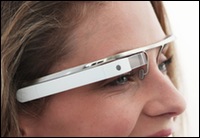 Engadget reports Google has begun inviting developers who have signed up to play with the GDK, Glass Developer Kit, to buy Glass.
Google opened the Mirror API, the ways most developers can build Glassware for Google Glass, to all developers over the weekend. Those developers who signed up to develop on the Mirror API received emails from Google inviting them to purchase Glass.
The email invite read:
We're now inviting you, as a developer, to purchase Glass, become an Explorer, and join us in taking the next step in developing for Glass.

Click on the purchase code below to begin your adventures with Glass.
Here is a picture of the invite email:
---