How to build a successful RevOps team
Sustained revenue growth is built on optimized RevOps teams and strategies.
When B2B brands look to increase revenue, relying on natural growth supported by a traditional operations organization doesn't always cut it. That's why so many companies have deployed Revenue Operations (RevOps) teams to optimize the process.
According to Craig Rosenberg at Gartner, RevOps teams are best defined as "the function that designs and manages and tracks non-product experiences across the entire lifecycle." In other words, responsibility for segments of the customer journey are not distributed between marketing ops and sales ops (and possibly customer success ops too). ]
"What Gartner was able to do here is identify the core functions of RevOps," said Allen Pogorzelski, Vice President of Marketing at automation platform company Openprise, in a session at our recent MarTech conference.
Whether it's maintaining high-quality data across siloed departments or measuring many touchpoints for attribution, RevOps teams have their work cut out for them. But without this work brands can lose control over their revenue growth.
---
---
What RevOps teams do
"There's always friction between sales and marketing," said Pogorzelski. "In many cases, the teams aren't collaborating very well because the systems they use are different, but need to share the same data set data set."
Bringing together operations professionals from marketing and sales teams and forming RevOps teams is only the first step toward revenue optimization. Here are eight key areas Pogorzelski recommends optimizing to ensure your RevOps team is successful.
1. Lead routing
Many marketers report duplicate lead issues in their campaigns, which usually reflects lead routing problems. This can cause delays in follow-up when multiple people end up with identical contacts.
"We've seen databases that can have as many as 20-25% duplicate leads and contacts," said Pogorzelski. "Inevitably, when you've got duplicate leads and contacts, it also means that those duplicates are owned by multiple people"
He added, "Doing a due process is absolutely critical and to run it on an ongoing basis rather than just once a year will help prevent all of that."
2. Lead-to-account matching
To engage in proper data analysis, marketers need to be able to match leads to specific accounts. This ensures your RevOps provides the right resources to contacts.
"If you clean up your data first, your match rates will be much higher," said Pogorzelski. "You'll come across many fewer instances where you have a lead in the door and are unable to enrich it."
3. Lead scoring
Lead scoring is a process marketing and sales teams use to determine how likely customers are to buy. Marketing technology platforms are the backbone of these processes, but so are sales teams. And when salespeople in organizations are hesitant to adopt them, RevOps can provide key firmographic data points to build trust in those systems.
"In my experience, salespeople are coin-operated, and they will wholeheartedly embrace new technology if they feel it works for them and adds value," said Pogorzelski. "So when a company has trouble getting the sales team to adopt a process, it's usually because the faith isn't really there."
4. Account scoring
Like lead scoring, account scoring takes data and gauges how valuable each customer is in terms of their purchase probabilities.
"Pulling in third-party data is really important here to make sure that you're grading your accounts properly," said Pogorzelski. "We highly recommend that companies grade every account and then measure performance based on that."
It should be noted that the advent of privacy regulations has discouraged marketers' reliance on third-party data sources. Yet RevOps teams can still successfully score accounts using first-party data strategies.
5. Account-based marketing strategies
Talk of ABM strategies has grown quite popular over the years, but many marketers feel their teams either lack the expertise or consensus on the best tactic.
"It makes sense that a lot of people are struggling with the consensus on the best approach because there are so many ways that you could deploy an ABM initiative at your company," said Pogorzelski.
Despite these difficulties, Pogorzelski says "the point of ABM is to have teams work together as a team with a consensus on how they're going to go to market and target specific accounts." The best RevOps teams can find ways to combine the skillsets of their team members and use the best suited ABM strategy.
---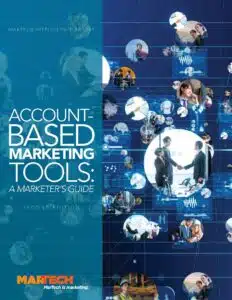 More B2B marketers are adopting account-based marketing than ever before. Find out why and explore the ABM platforms making it possible in the latest edition of this MarTech Intelligence Report.
---
6. Audience segmentation
"Most of what this is is about the ability to manipulate the data and get it in good enough shape that you can use it in a meaningful way."
Segmenting audience data can be difficult when it's coming from multiple sources (as is often the case). RevOps teams must be able to adequately unify this data before breaking it into relevant groups. Unifying data via a CDP is one way to build actionable segments.
7. Attribution
"If you have no contacts with associates associated with them, you have no idea where those opportunities come from," said Pogorzelski. "And that's a huge problem if you're not using tools that can help you with that."
If lead attribution systems aren't in place, your opportunity leads will be wasted. Having the right marketing attribution tools in place can help prevent these losses even if the sales team fails to capture all of the contact information in an opportunity.
8. Clean customer data
"One of the things that we suggest is when you're trying to create a budget for this, is that you get the feedback from the broader team and you match the data cleansing initiative that you have to the broader business outcome."
He added, "Cleaning data isn't something you do for yourself, it's something you do to solve a greater problem, whether that's attribution or lead routing or segmentation or something else."
RevOps can't function properly if it can't trust customer data; that's why data cleansing is vital. Marketers can use automation systems to improve data standardization, connectivity, and duplicate consolidation, which helps fuel revenue growth.
Watch the full presentation from our MarTech conference here (free registration required).
---
Opinions expressed in this article are those of the guest author and not necessarily MarTech. Staff authors are listed here.
---